ARTIST OF THE WEEK: KAT DAHLIA
SEPTEMBER 02, 2014
via
PEPSI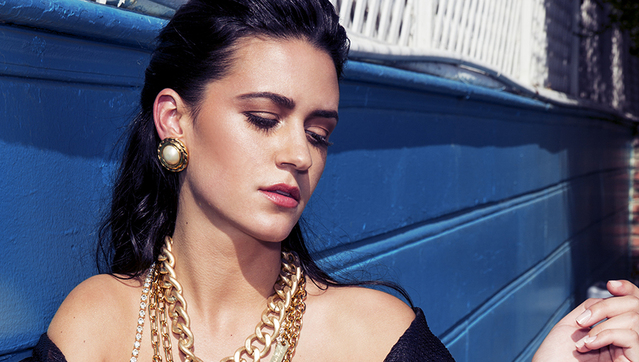 Meet the young woman Timbaland dubbed the next Nina Simone. 26-year-old singer, Kat Dahlia has a strength and courage that shines through every bar of her music. The Cuban-American's razor-sharp demeanor makes the charming, playful side of her lyrics all the more enticing. After starting out on the Miami scene as a rapper, Dahlia is artfully etching her name into the music industry as one of its next rising stars.
Her debut album, My Garden, is set to drop this year. Its infectious first single, "Gangsta" combines a bouquet of hip-hop, pop, and R&B undertones. The versatility emanates from her colorful taste in music, and an expert team of producers, of which Timbaland is a part. With an endearing personality and a creative ear for fresh sounds, you can bet Dahlia's freshman release will be a standout contribution to 2014's already-rich pop music landscape.
We sat and spoke with Kat Dahlia about her debut album My Garden, the Nina Simone comparisons, the origin of her smash single "Gangsta," and the meaning behind her name.
When did you fall in love with music?
Well, I've always been in love with music. As a kid, I'd be in my room watching MTV, acting out anything from Disney movie soundtracks to Britney Spears to Christina Aguilera. When I got older, I started falling in love with classic rock, The Beatles, The Doors, Janis Joplin, Jimi Hendrix, and Led Zeppelin. And then, as I got a little older, I started getting into the Blues. You know, like B.B. King, Chuck Baker, and Miles Davis? I've always been in love with music and the harmony and enchantment of it. There are chapters to the genres that I opened doors to throughout my life.
And now?
I like things that have a heavy bass. I like things that have a nice kick-drum to them. I think that I tend to steer towards more rhythmic music, some hip-hop. But again, I like to fuse sounds just because. Even with "Gangsta," it's kind of hip-hop and then it's kind of R&B and still sort of pop. I like having the ambiguity of it because I kind of feel like that's where music is going now.
Kat Dahlia is a pretty cool and dark name. Can you explain the origin of it?
My artist name is funny. I appreciate you thinking that it's cool. When I got signed, I was putting anything to the back of my name, Kat Tree, Kat Air, Kat Fly, Kat Door. A friend was like, 'What about Kat Dahlia?' It was actually Jay Benz – the producer of "Gangsta," who loves it.  A few months after I found out the Black Dahlia was born on my birthday. Elizabeth Shore was born on my birthday.
I kind of like the duality that came with the name you know? It could really be something soft and beautiful but at the same time, it has this dark kind of undertone to it. It kind of reflects music. As much as it can be strong and tough, there's still vulnerability to it, and truth and beauty.
You were born and raised in Miami. How would you compare the music scene down in Miami to New York, especially knowing that you moved out to New York not too long ago?
We had a lot of southern hip-hop, always playing Juvenile and OutKast. It was a lot more hip-hop driven. It's heavier on the Latin side. You see more Latin artists out there, it's the Latin Music hub, but not necessarily for my genre of music. That's part of the reason I ended up leaving. I wasn't really doing anything out there. I was just working as a waitress, making the rent, and going out and having a good time. I wasn't really doing anything productive for my career.  So I ended up leaving and going to New York.
How did you write "Gangsta?"
When I heard the track for "Gangsta," the first thing I thought of was 50 Cent's "Wanksta." And I was like, 'You know what, I could probably write a rap better than a lot of the other artists out here doing it.' I just did it for fun.
And then I got into a fight with my manager at the restaurant that I was working at the time. I wanted to go home early, I had to work the morning shift the next day and he wouldn't let me. The next day, of course nobody came during the morning shift. I wasn't making any money. I sat at the bar and wrote out "Gangsta" at 10 in the morning. It ended up becoming something more serious.
You touch on a lot of deep content in that song, pertaining to your father and you having to deal with a divorce at a young age. How deep do you intend to go with the lyrics on your debut album My Garden?
I touched upon a lot of things. That's why I wanted to name it My Garden because it's a plethora of sounds. Every song builds up different emotions and tells a different story. I can be really emotional. But sometimes I turn up and want to party. I'm touching upon the emotional things about my relationships, daily human struggles and universal love. That's what I kind of wanted the album to be like, just a little bit of everything.
Tell us about your new single "Crazy"?
I'm really excited about it. We shot the video in London with Rankin. The record is basically about this girl who's crushing on a dude and she's uncomfortable about the way she feels. You know when you start crushing on somebody so hard and you don't even know who you are anymore? You don't know how to feel. Sometimes you just feel crazy. Sometimes you just feel pissed off. Sometimes you're like super happy. It's funny, when I heard the record, that's how I kind of was feeling at the time. And I think it's something that resonates with people.
How did you feel when Timbaland compared you to Nina Simone? Do you feel that was an accurate comparison?
I LOVE HER! I love her so so much. People go to Amy Winehouse because I guess she's more modern day and fits the younger legends. But Nina Simone was a huge influence of mine. I was obsessed with her growing up and I still am. I think she's an amazing artist. And she was so honest. Her voice was like smoke in a pipe.